06/12/2013
How to Select a Contractor

SULLIVAN'S PUNCHLIST BLOG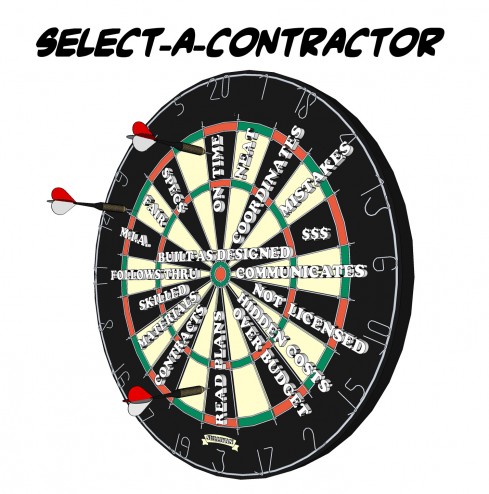 how to pick a contractor, choosing a good contractor[/caption]
CHOOSING A CONTRACTOR WITHOUT RESEARCH CAN
BE AKIN TO THROWING DARTS WITH A BLIND FOLD.
BEGINNER'S GUIDE PERSPECTIVE:
How To Select A Contractor
By Patrick Sullivan, Architect
I can't tell you how heartbreaking it is to hear personal accounts from people I meet at a dinner or social event regarding their construction project or remodel experiences that have gone terribly wrong for them. Often times, the owner hiring a contractor made some basic assumptions — on a handshake alone; costing them big bucks, time, and frustration in the long run. Ignorance is certainly not bliss, especially when it comes to construction. Don't get frustrated. Empower yourself with some general things you may not have already considered.
Naturally as an architect, I am going to try to convince you about the value of comprehensive planning, putting it on paper in a set of Construction Documents (CDs), and the prudent use of AIA Contracts as advised by your attorney from the onset. An architect can provide an array of basic and additional services, with the ability to act, if fully commissioned, as an agent to the owner through the entire building project. [see www.AIA.org for more information on a range of different project delivery options].
However, I understand you may have taken a different approach, are now in a unique jam, and are, at this point, reading this and trying to make sense of what questions you should maybe now be addressing. For those of you doing your homework before a project, congratulations on planning ahead. Did I mention: Hire An Architect! Good luck and please understand this is a rudimentary selection of just some of the many considerations. Every project is unique. I hope you enjoy, stay calm, and are starting your own three ring binder to collect your thoughts and plan a strategy for your own project investment.
Some tips for choosing a contractor:
1. Do A Background Check
There are plenty of people portraying as a general contractor (GC) that are, in fact, not licensed, posing under someone else's license, or potentially evading information from the owner. Fortunately, there are a few good contractors out there. But don't roll the dice. Please use caution as there are also a multitude of charlatans and opportunists thrilled to take your money. Many architects and engineers have a few good contractors to suggest based on prior experiences, that you can consider for your own short list. I caution you to please take the time to also verify a State professional licensing board for complaints, ask for proof of insurance(s), and even investigate the national sex offender's registry (www.nsopw.gov) and a local Sheriff's arrest record (applicable in some States). I have clients rave about review-based websites like Angie's List, Google Reviews, the Better Business Bureau, or a background check company. Use your common instinct but ALSO check around. It may give you a fairer sense of a who you are potentially working with and letting inside your family dwelling for any length of time.
2. The Cheapest Competitive Bid is Not Always your Best Option
Sometimes completion time, scheduling, track record, and craftsmanship may be more valuable to you then a low bid. Some may be looking for experience with a net-zero energy LEED custom home or dental office construction that requires a unique specialization. It is important to work with a GC that has a proven reputation and follow through to correct something should a complication arise.
3. Be Assertive and Get It In Writing
A HANDSHAKE ALONE OR SOMEONE'S WORD IS SIMPLY NOT ENOUGH. I CAN'T STRESS THIS ENOUGH. Use AIA Contract Documents and always seek an attorney to review your agreement BEFORE YOU SIGN. Otherwise, learn the hard way.
4. Learn Enough to Talk the Lingo and Ask the Right Questions
After your project team has prepared a CD set, you may already have a contractor in mind, perhaps a friend or family member. That is great. I caution you to understand that once you sign a contract and cut a check you run the absolute risk of being at their (NOT YOUR) disposal. You also must recognize that dealing with a close acquaintance may cause conflict and awkwardness when the construction does not meet your satisfaction. You paid for the construction to conform to the DESIGN not just "I guess it looks right." Builders are only human, chase multiple projects at the same time to feed their families and employees, and are not formally trained experts in code compliance. Aesthetics and technique may not necessarily be a main concern to them, and may in fact, be 'cutting corners' to make up for lost time on a project. They often farm work out to sub consultants, have to juggle circumstances and improvise and compromise the plan and schedule. Naturally, some are more reliable than others.
Also consider:
A) Interview if the person is a GC or glorified unlicensed handyman? Some even claim to be a one shop Architect/ Engineer/ Contractor when in fact they are a lackey 'designer' or draftsman under someone else's contractor license running a professional business pretense. Ask specifics including business information, and credentials, including financial references and previous clients(if willing) so you fully understand the risk.
B) Will the contractor be supervising the site and actually be there each day? Some work remotely and rarely visit the site work? How many other projects are going at the same time? How long have they worked with the subcontractors?
C) Discuss with your architect lead project team the labor and material construction estimate numbers the contractor are providing. Look for hidden numbers and unusual fees. For instance, if the contractor's labor fees are based on an overall construction budget then realize a small bathroom remodel with high quality honey onyx tile may greatly skew a budget on a 50% labor fee quote.
D)How are the building materials to be purchased and properly stored. Will these items be exposed to the weather and outside conditions for an extended period of time?
E) Will the contractor minimize the construction debris and clean up each day?
F) Does the contractor have proof of insurances, have any existing liens, litigation? Are they willing to bid bond the project?
G)What is the project finish date?
A contractually obligated FINISH DATE OF COMPLETION is vital to your agreement. Maybe look into the legal prospect of a bonus/penalty clause in the agreement? Some unethical and disorganized contractors in the profession are notorious for taking a check to begin your project and then abruptly juggle on-site construction crews, leaving for days or weeks without warning. The examples I have heard about nightmare contractors that are chock full of daily excuses and empty promises. They will 'Yes' you to death and ruse your better judgment. But do realize, another building project paying more money may quickly become the contractor's priority leaving you wondering how to coordinate your life and other important factors that were originally coordinated with a schedule expectation. Not to mention, an unprotected wooden frame could be harboring mold or rusting nails and warping with moisture changes. This IS SO IMPORTANT.
5. Withhold Final Payment
Payment schedules are crucial. Large scale projects usually have a 10% at the contract signing, three spaced payments of 25% with a final 15% at the close out. Don't pay up front for services not rendered. Check your AIA contract terms with the owner-contractor agreement. Pay upfront for items such as materials and equipment the contractor may need to purchase or transport to the site, and other reasonable allowances, as determined.
6. Don't be afraid to shop the construction documents (Drawings and Specs) around.
Already got plans In hand? Don't simply run with the first estimate you get. An architect can suggest a name of a good contractor, however, it's just that – a suggestion. Many professionals suggest 3-5 bids to get a fairer pulse on the true market value. Also, considerations like inflation and material demand fluctuate daily and you need to collect and compare the bids received during a particular time frame and relative to the construction time period they were ALL estimating on. Are the contractors giving you a Guaranteed Maximum Price (GMP) or is this an estimate? Depending on the type of project, it is common to have a construction manager or third party estimator run cost analysis during the different phases of the design. I know this is all exceedingly frustrating. So use caution and be mindful. But as a general theme for this point, multiple bids are always a strong idea for sniffing out an unusually low or high bid. When you work with an architect, it is easier to isolate the profit margin break downs with the bids.
7. Understand the term 'Change Order' before the process begins
Change orders should try to be minimized. Some speculating contractor's live on this term. Some will even take a small project just for the opportunity to bloat an expanding misdirected project. Again, be sure to have a quality contractual legal agreement and CD set properly prepared and reviewed. Talk with people that have construction owner experience (relative to the size and scope of your project) and they will tell you all about it. Also, understand an indecisive owner who omit's or adds design elements late in the process may expose themselves to hidden fees and bloating budget redesigns, forced errors that the contractor will request additional payment for time, additional coordination, labor, and materials. If you are working with an architect they can prepare a set that can be bid on. If you are working with a design build entity, realize the advantages and disadvantages of having a designer working in-house with the contractor and the limited owner control of specifications you may have.
8. Hire the architect through the Bidding/Negotiation and Construction Administration Phases
Many young professionals or first time building owners I meet simply do not have the time with their highly successful careers. They work hard and between the valued time with their family and loved ones, maintaining a watchful eye over their construction project is often a source of frustration. They will even have an excellent drawings and specifications (construction documents) prepared by a licensed architect and project team. But that all is for nothing if the architect is not retained for the later phases of the project. Make sure you are hiring someone on your project team to keep watch. You will typically spend 90% of your money during construction. Spend some money to make sure it is being scrutinized before costly mistakes, redesigns, and necessary modifications have to happen.
9. Don't solely take the advice of the contractor to change the drawing intent and give authorization to do work at the project site when a contract has been implemented.
Contact your architect and review your contract agreement.
10. You may consider buying and storing the building material – not the contractor?
If you had a good construction document set, in some cases you may consider having certain materials delivered C.O.D. or by credit card direct to the owner. You may not always want to do this for all materials and circumstances. However, you may want to purchase tiles or stone (and have purchased a fair amount for the event of a future replacement). You also need to realize there is also a certain amount of inefficiency with material waste (cuts made, rejects , corner CMU blocks, etc. ) that require some extra square footage or units. It is reassuring to know you, the owner, have the capability to fire a contractor if your terms are breached and have the control to retain the materials you already paid for.
Some contractors have the ill practice of over purchasing materials to use on the next job site and profiting at your expense. I have personally witnessed contractors attempting to cart off excess material I paid for WITHOUT MY PERMISSION. Again, ignorance is not bliss. Sometimes having a cost estimate/ analysis by a professional, like an architect or third party independent party, could watchdog this practice. Bear in mind, cost estimates can fluctuate but it is always nice to know that cost line items can be scrutinized by someone on YOUR PROJECT TEAM and not the contractor's alone.
QUICK ANECDOTE: My wife and I were recently visiting a good friend of ours in Manhattan, when I noticed his newly renovated shower tiles were separating from the wall of his apartment. My friend, in good faith and based on the building superintendent's recommendation, had selected a prequalified contractor from the mandated building qualification list. However, that certainly did not guarantee a quality means and methods of construction.
Unfortunately, I later come to find out that the contractor somehow managed to attach the 13″ square porcelain tiles directly to the wood studs and blocking with thin set. Ridiculous and unacceptable. Totally absent from the defective wall system was any cement backing board or even 'green board'. Let me just tell you that the mold and mildew issue was seriously alarming and a need to completely redo the project over.
The real tragedy in situations like this is my friend probably has a strong legal case to seek justice, but really who has the time or financial means to fight a battle when you need to immediately resolve your health hazard and quality of life. Shame on the building management and contractor for regulating this horror story. Realize that people have their own interests in mind and referrals are not guarantees. Poor work is always possible when the laymen owner and skilled bamboozler are without contract, withheld final payment, scrutiny of the process, and professional agent, just to name a few.
The moral of the story I hope readers take away is every construction project takes on risks. There is much more to consider. You can minimize these risks be selecting and hiring a project team (including a contractor) who will work ethically and assertively to do the right thing. They do exist. However, realize the good ones many be more sought after and requiring scheduling and an appointment.
Like myself, all transplanted New Yorker's pride their own Rolodex of a good craftsman or car mechanic with the colloquial: "I know a guy". Just please do me the favor and don't just blindly accept a good prior experience. Be sharp and research before you execute! <<
Written by: Patrick A. Sullivan, AIA , NCARB, LEED AP
NEED AN ARCHITECT?
Or want to share a topic for discussion ? Contact us at
www.sullivanarchitect.com or 813.205.2494
Some Links:
www.sullivanarchitect.com
http://www.aia.org/value/yaya/AIAS076558
http://www.aiafla.org/Consumer-Information_How-to-Select-an-Architect.cfm
http://www.aiafla.org/Consumer-Information_Role-of-an-Architect.cfm
All content provided on this 'www.sullivanarchitect.com" blog is for informational purposes only. The owner, Patrick A. Sullivan, Architect, LLC, of this blog makes no representations as to the accuracy or completeness of any information on this site or found by following any link on this site. The owner of 'www.sullivanarchitect.com' will not be liable for any errors or omissions in this information nor for the availability of this information. The owner will not be liable for any losses, injuries, or damages from the display or use of this information. Always seek legal representation before signing a legal contract with a design or construction professional.